"FROM WHERE AND WHENCE THEY CAME....." Salem Witches




The Salem Witch Trials of 1692 have been a subject of fascination and conjecture for a long time. Theories abound as to what could have caused this hysteria. Everything from bad grain, an unstated conflict between the original settlers and those that followed and even the Indian skirmishes of the time have been blamed to varying degrees. It is not my intent here to advocate any particular theory. But rather, I'd like to share with you my family's connection to these events, and perhaps point you to some resources that you might find interesting.
Before I get into that, however, it is interesting to note that even though we refer to these events as the Salem Witch Trials, most of those accused of witchcraft were, in fact, not from Salem, MA. The judicial body that oversaw the trials, The Court of Oyer (to Hear) and Terminor (to Determine), was seated in Salem and this is where the trials took place.But more people from Andover, MA were accused of witchcraft than from any other town. In fact, nearly 80% of Andover families in 1692 would eventually be touched by the hysteria in some fashion.
The Frye family was no different. We can connect ourselves to two of those accused; one of whom was hanged. What follows is a synopsis of their cases:
Eunice (Potter) Frye
Eunice Potter Frye was the wife of John Frye. John was one of the sons of the original settler, John Ffrie. Technically, this makes Eunice Potter Frye the wife of my 7th great granduncle (boy, this stuff gets confusing!). She was 51 years old in 1692 when she was accused. The transcript of her case reads as follows:
Eunice frie wife of John frie of Andov'r in the County of Essex being Indicted by the Jurors of our Soveraigne Lord and Lady the King and Queen upon their oathes by Two Severall Indictm'ts That is to Say 1'st For that shee the said Eunice frie the wife of John frie of Andov'r in the County of Essex aforesaid about two yeares agoe in the towne of Andover afores'd wickedly felloniously & Malitiously, A Covenant with the Devill did make, and Signed the Devills book and gave up her Selfe Soul and body to the Devil and by him was baptized and renounced her former baptizme & God & Jesus Christ By which wicked and diabolicall Coven't with the Devil made by her Eunice frie she is become a Damnable Witch against the peace of our Sover'n Lord & Lady the King & Queen their Crowne & dignity and the laws in that case made and provided.
2'dly For that she the s'd Enice frie the wife of John frie of Andov'r in the County of Essex, On or about the begining of September last in the year 1692 aforesaid and Divers other dayes and times as well #[well] before and after Certaine Detestable arts called witchcrafts and Sorceries wickedly Malitiously and feloniously hath used practised and Exercised at & in the Towne of Salem in the County of Essex afores'd upon and against one Martha Sprague alias Martha Tyler by w'ch wicked Arts the said Martha Sprague alias Tyler the day and yeare afores'd & divers other dayes and tymes as well before as after was & is Tortured afflicted Tormented Consumed pined and wasted against the peace of our Soveraign Lord & Lady the King & Queen their Crowne and Dignity and against the Lawes in that case made and provided.
Upon the aforesaid Indictm'ts and each of them the said Eunice frie was then and there before the justices of our Lord & Lady the King and Queen afores'd Arraigned and upon her Arraignm't She did then and there the day and year abovesaid plead to them and each of them not Guilty and put her Selfe upon triall by God and her Countrey. A Jury being called Tho: Burnam foreman and accordingly Sworne no exception being made by the prisoner the said Indictm'ts and each of them being read together with Evidences & Examinations and the prisoners defence being heard the jury went out to agree on their verdict who returning did then and there in open Court deliver their verdict That the said Eunice frie was not Guilty of the fellony by Witchcraft for which she stood Indicted in & by the said Indictm'ts and each of them
The Court Ordered Enice frie aforesaid To be Discharged Paying her fees
But, even though Eunice Potter Frye was found Not Guilty, it wasn't until after she had spent 15 weeks in jail and her freedom came with a price. In those days, families had to pay costs associated with jailing. In many cases, this meant having to give up land or other goods in order to gain the freedom of relatives, even after they were found Not Guilty. It cost John Frye 100 pounds to have his wife released from jail on December 20, 1692. Her Not Guilty verdict was not handed down until May of 1693

Mary (Ayer)Parker
Q: How long have ye been in the snare of the devil?
A: I know nothing of it
The second connection we have to the Salem Witch hysteria is the case of Mary Ayer Parker. She was the mother in law of Benjamin Frye, another son of the original settler, John Ffrie. Mary was directly accused by Mercy Wardwell, Samuel Wardwell's daughter, and by William Barker of "having joined in torturing a certain Timothy Swan with iron spindles, pins, and other instruments, thus causing his death on February 2, 1692."
Timothy Swan apparently was responsible for charging many of his neighbors with witchcraft. His gravestone is the only known grave of anyone who was an 'accuser' during this time. The stone is in the Old Burying Ground In North Andover, MA.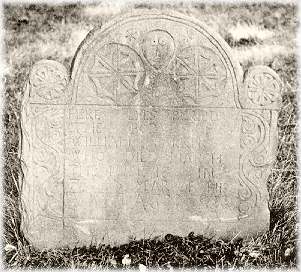 The inscription reads,
"Timothy Swan
Died February ye 2 1692/3
& in ye 30 year of His Age."
Much of the evidence in these trials was 'spectral evidence', meaning there was no tangible, physical evidence of wrongdoing. Rather the actions and reactions of "the afflicted ones" was often enough to seal the fate of an accused witch.
One of the most diabolical schemes of the witch trials was the Andover Touch test, held on September 7, 1692. Several of those accused of witchcraft were forced to touch the "afflicted" ones. Among the afflicted ones were young girls who would writhe and cry out claiming they were under the curse of a witch. Mary Parker was one of those accused of witchcraft that was led into the trap of the touch test. She "came before the justices, she recovered all of the afflicted out of their fits by the touch of her hand."
Mary Parker was found guilty of witchcraft on September 9, 1692. On September 22, she was hanged on Gallows Hill in Salem, along with seven others. This was the last time anyone was killed for witchcraft in Salem.
It was about two weeks later that Massachusetts governor Phips ordered that spectral evidence no longer be used in the proceedings. After Mary Parker's execution, an officer was sent by the sheriff to seize her property to meet the cost of her imprisonment and hanging. When her sons protested that she had no assets, the officer carried off their cattle, corn, and hay; and they were obliged to make a trip to Salem and spend a considerable sum in order to keep their own household effects from being sold. Her sons, John and Joseph petitioned the governor for relief from having to pay to have their property returned. The transcript of this petition is an interesting look into the past. These men had agreed to a sun om six pounds to have their property returned out of fear of losing their estate completely, and now were asking the governor if the agreed upon sum might have been too high:
To his Excellency the Governor, and Councill and Representatives; now sitting in Boston
the humble Petition of John Parker, & Joseph Parker of Andover sheweth,
That whereas our mother Mary Parker of Andover, was apprehended upon suspition of witchcraft, and being brought to a tryall at Salem Court, was condemned: since her death the sherriff of Essex sent an officer to seise on her estate. The said officer required us in their majestyes name to give him an Account of our mothers estate, pretending it was forfeited to the King; we told him that our mother left no estate; (which we are able to make appear) notwithstanding which, he seised upon our cattell, Corn & hay, to a considerable value; and ordered us to go down to Salem and make an agreement with the sherrife, otherwise the estate would be exposed to sale. We not knowing what advantage the Law might give him against us, and fearing we should sustain greater Damage by the loss of our Estate, went to the sherriff accordingly, who told us he might take away all that was seised. if he pleased, but was willing to do us a kindness by giveing us an oppertunity to redeem it. He at first demanded ten pounds of us, but at length was willing to take Six pounds, which he has obliged us by Bill to pay him within a moneth. Now if our Mother had left any Estate, we know not of any Law in force in this Province, by which it should be forfeited upon her condemnation; much less can we understand that there is any Justice or reason, for the sherriff to seise upon our Estate And tho it is true our own act has obliged us to pay him a Summ of money, yet we declare that we were drawn to it partly by the officers great pretences of Law for what he did, partly to prevent the loss of our estate which we feard would be immediately sold.
How we humbly pray this Hon'red Court to consider our case, and if it be judged that so much money ought not to have been demanded of us, upon the forementioned account: we pray that we may be discharged from that obligation, which the sherriff, taking advantage of our ignorance hath brough us under And yo'r Petition'rs as in duty bound shall ever pray &c --
Dated at Andov'r 7'th Novemb'r 1692
John Parker
Joseph Parker
Today, there is a memorial in Salem to those that were killed in the witch hysteria of 1692. And while, personally, I find most of the "attractions" in Salem to be hokey and extremely commercialized, this memorial and the adjacent burial ground are fascinating. The memorial consists of a small walkway surrounded by a stone wall. Built in to the stone wall are stone benches, each carved with the name of one of those killed along with the date of their death.
Here is a photo of the bench for Mary Parker: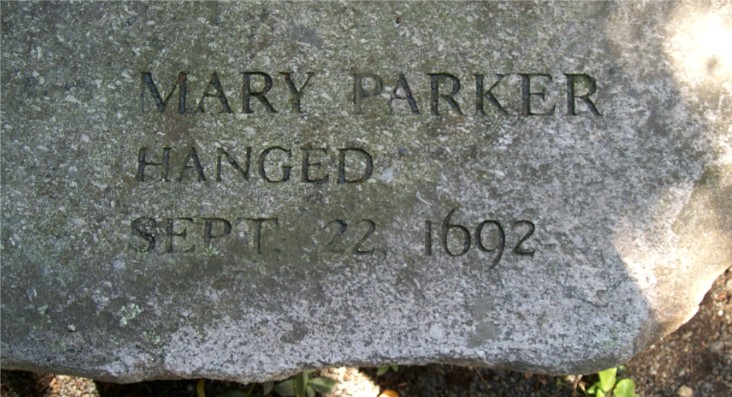 There is a bevy of significant research that has been done on the Salem Witch Trials and there is a good bit of it online. Here are some links that you might find interesting:
17th Century Colonial New England - This site is run by Margo Burns and contains a ton of information on the 17th century. And in a unique twist, it was Margo's parents that introduced my parents to each other!
The University of Virginia has a good collection of original documents and transcriptions online relating to the Salem Witch Trials
Halloween Costumes site - I'm always up for getting great information from wherever I can get it! I owe this link to a young 7th grader named Ava. Ava and her family went to New York City on a long weekend and while there saw "The Crucible". She found herself fascinated by the events of Salem and wrote a school paper for it. In researching her paper, she came across this page of my website, but also found the link to the Halloween Costumes website which has a bunch of links to information about Salem. Ava and her Mom shared the link with me, so I am sharing it with you (pay it forward!!). Thanks Ava - I hope you get an A++++ on your paper!!!
Update - Spring 2017....it seems we have brought Ava over to the Dark Side! She can't get enough of this history stuff - especially the Salem Witch Trials! She decided to do her final project on the Salem Witch Trials! And - as luck would have it, she has come across more resources that she has taken the time to share! So here is another link from Ava that you can check out: Link from Ava .
Ava, if your final project is a paper that you wrote, and you want to send it to me, I can link it up here and other kids can use it as research material!!! Just let me know. Oh....did you ace the final project? ;-)