Ambrose Fogg was born In Brooks Maine on February 9, 1847. His father, John H. Fogg was a farmer and was 7 years older that Ambrose's Mom, the former Esther Davis. The family farm was 575 acres on the extreme western edge of Brooks, near the Knox border, along what is today the Kenney Road.
Ambrose had an older brother, William, and 6 younger siblings, Charles, Andrew, Lydia Erwin, Adie and John Jr.
By 1870, at the age of 23, Ambrose had left the family farm and was living in a Keeping house in Boston. He was employed as a house carpenter.
Also in 1870, an 18 year old girl by the name of Cecilia Emery was living with her family in Frankfort, Maine, just a few miles east of Brooks. Her father, Llewellyn Emery was a local marble worker. Ambrose and Cecelia got married and were living in the Roslindale section of Boston when, in 1877, at age 25, Cecilia had a stroke (apoplexy) and died. They never had any children.
Ambrose must have been close with his in-laws, Llewellyn and Adelia Emery. Not long after Cecilia's untimely passing, Ambrose moved back to Maine and went to work for Llewellyn as a stone cutter at his business on the corner of Middle and Main in Bangor
Within two years, in 1879, the business name changed to Emery & Fogg. Ambrose began to develop a reputation for his fine work.
Life moved on for young Ambrose. By age 33 he had become smitten with Maria Francilia Smith, the daughter of rather noted artist and painter, Royal Brewster Smith and Roxanna Gowen. Maria was a clerk in a local store, and perhaps this is how they met. Ambrose and Maria were wed on January 8, 1880. By the end of the year, Ambrose had purchased property on Bower Street in Bangor for $950.00. A year later, paperwork was completed that added his new wife to the deed.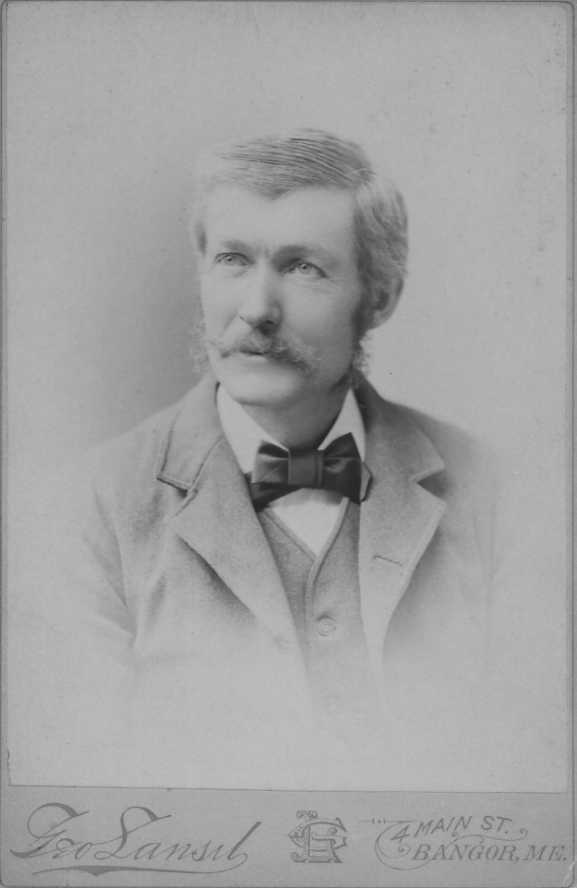 Ambrose and Maria were blessed two daughters:
Grace Alice Fogg, born 3/5/1882, died 10/24/1962
Blanche Fogg, born 1/15/1881, died May 14,1968
Llewelyn Emery died in February, 1886 at the age of 59. Ambrose, now just 41 years old, and with two young daughters, had the stonecutting business to himself. He no longer benefited from the guidance of his mentor and former father-in-law.
Over the years, Ambrose moved his business around in Bangor. It had been at the intersection of Middle and Main for years, but by 1893, Ambrose had moved what was now called Ambrose Fogg's Monument Works to a new address at 62 Franklin Street, right along the Kendeskeag Stream that flows into the Penobscot River.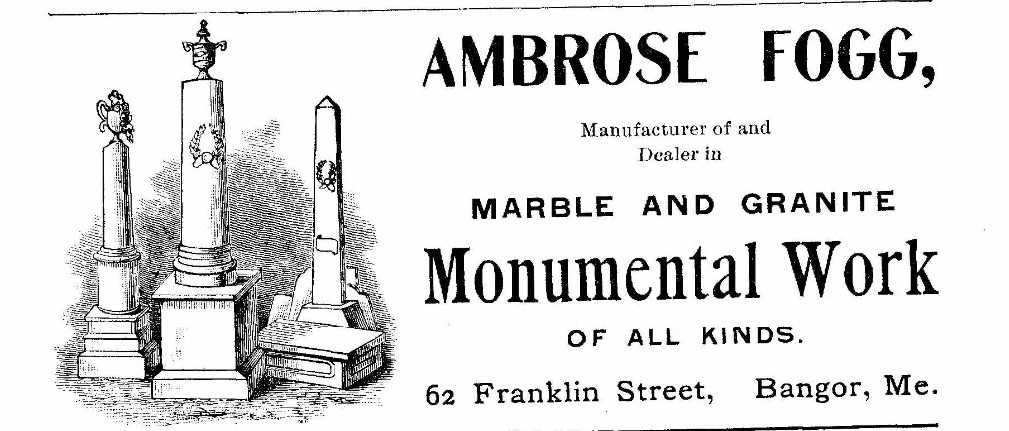 Here he remained for 17 years, before selling his business to the Shepley Marble Works. He went to work for them as a letter cutter at their location at 152 Main Street in Bangor. This location is the McGuire building and is today known for a rather famous 'Welcome to Bangor' mural that adorns the Union Street side of the building.
But throughout these years, Ambrose and Maria maintained their home at 15 Bower Street. At one point, Ambrose bought adjacent land to their home, but later sold it. Ambrose retired in 1931, having been in the monument business for over 50 years. He passed away on April 2, 1933, at the age of 86. Maria, now 87, left the home on Bower Street and went to live with her daughter, Grace Alice Fogg, now married to Walter Lee Mason, at their home in Charlestown, NH where he was Superintendent of Schools. She passed away in 1939 at the age of 93.
Ambrose was also very active in local politics. A staunch Democrat, he served Ward 4 in Bangor for over 50 years in a variety of roles, including as an election clerk. He was also an avid fisherman, who enjoyed taking Atlantic salmon from the Penobscot River.
Ambrose and Maria's other daughter, Blanche, had married Percy Bowden. The Bowden's, the Mason's and the Fogg's were all very close. Given Ambrose's work in the monument business, it's no surprise that he was able to procure a lovely family plot in a pristine location in Mount Hope Cemetery in Bangor. In the center of that plot is a large, pillar shaped monument with the surnames FOGG, BOWDEN and MASON cut into them. I have no way of knowing if Ambrose actually carved this stone before his passing. The folks at Mount Hope tell me they didn't keep those types of records back then. But I wouldn't be surprised if Ambrose had a hand in the creation of that center pillar. He and Maria, their two daughters and their husbands, and several of their grandchildren are all interred at Mount Hope.