I have a particularly strong interest in Everett. I get my middle name from him. Though I never met the man, I have been blessed to have an amazing amount of information about his life. When my grandfather Howard Mason passed away, I came across a trunk in his attic that is a microcosm of Everett's entire life. From small town New Hampshire, to the WWII battlefields of Germany in a few short years, where he perished from shrapnel wounds in the days leading up to the Battle of the Bulge.

Everett Fogg Mason was born in East Jaffrey, NH at 7:55 am on Januray 5, 1921. He was the third and youngest child of Walter Mason and Grace Fogg
As a young boy, Everett learned how to play trombone and was apparently quite good. He played in the New Hampshire All-State Band in 1937. He was also an athlete, who played high school basketball at Charlestown High School in Charlestown, NH. He was a Boy Scout as well. And he was pretty popular. Everett was President of the Class of 1939 at Charlestown High School. Ironically, his Dad was Superintendant of Schools at that time as well.
College found Everett at the University of New Hampshire, where he was involved in ROTC, as a lot of young men were as 1940 came around. He graduated in 1943 and headed off to Boot Camp in Texas. While at Camp Barkley, he met a pretty young Army WAC named Mavis Tucker - but everyone knew her as Taffy.
On September 6, 1944, they got married.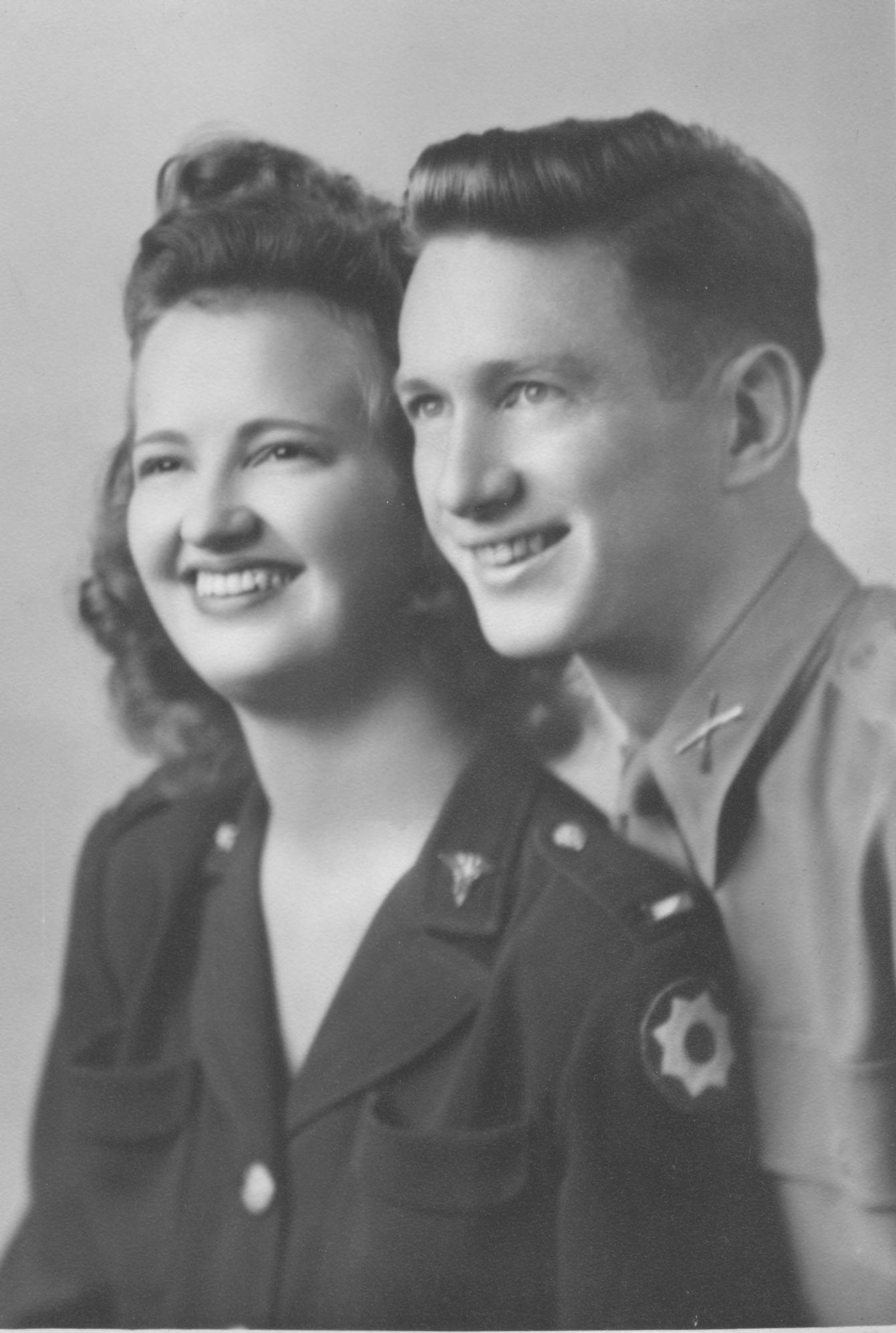 A lot of young servicemen at that time got married before they shipped out. I think it was the appeal of having a "girl back home." But I met Taffy, and there was no question they were in love. One of the things that Everett told his young bride was that if he were ever to be killed in action, he wanted to be "buried with his boys."
In October 1944, barely 6 weeks after they had been married, Everett got his orders to ship out for Europe. He was a 2nd Lieutentant in the United States Army and would join the 41st Armored Infantry Regiment under the command of Col. R.W. Jenna.
These were the days leading up to the Battle of the Bulge. Fighting was furious.Everett headed to an area near Linnich, Germany and arrived on November 26, 1944. According to a letter from Col. Jenna:
Lt. Mason joined this company on the evening of 26 November, 1944. That evening the company commander called the officers and non-commissioned officers together and outlined the plan of attack for the next morning. Soon after this conference, the company moved out and dug in at their position, preparatory to making the attack. At 7:15 on the morning of 27 November, 1944, the company began the attack, Lt. Mason leading his platoon. During the advance, near Linnich, Germany, Lt. Mason was struck by shrapnel of an enemy artillery shell and was killed instantly."
In a separate letter, written by Brigadier General S. R. Hinds, it was noted that Everett's platoon was advancing toward an objective just southwest of Merzenhausen, Germany.
Everett was leading a platoon of 55 men when he died. He was awarded the Purple Heart, the Combat Infantryman's Badge, and the European-African-Middle Eastern Campaign Ribbon with Bronze Stars. In accordance with his wishes, he was buried with his boys at the Netherlands American Cemetery a few miles away from where he was killed. The story does not end there, however.
Everett's wife Taffy had done what she had been asked. Everett was interred with his boys. But Everett's Mom desperately wanted her baby home. There are a lot of truly desperate, pleading letters sent by Everett's Mom to the War Department, to Congressmen and a whole series of letter with then NH Senator Styles Bridges, with whom the family was acquainted. One of these letters is a sorrowful note from the War Department that confirmed that Taffy had "rights" to Everett's remains as she was next of kin, having been his wife. Grace must have been devastated. She wanted nothing more than to have her son home, and not buried in some far-away land.
There is a rather touching side to this, however. At that time, it was not uncommon for young Dutch girls to 'tend' to the graves of fallen US servicemen. I can't be sure how it all started, but a 17 year old girl from the village where Everett was buried started sending letters to Everett's Mom. Her name was Mary Ernon, and she and Grace wrote too each other often. She sent Grace pictures of Everett's grave, and would routinely put flowers on his grave. This must have given Grace some comfort. In one of her letters, she said, "We are all grateful [to] the Yanks who gave their lives in ridding our land of the Nazi's."
Here is a picture of Everett's grave in Holland: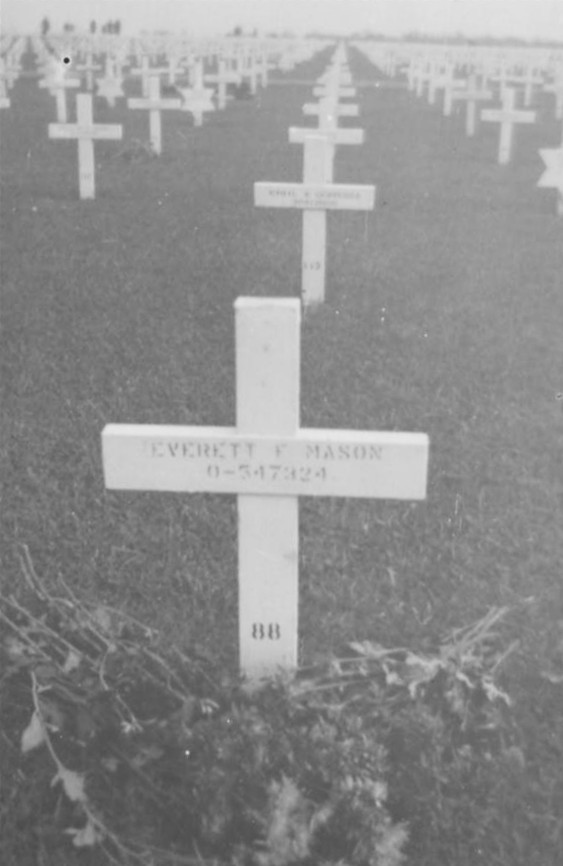 And still, the story doesn't end. In January 1946, 14 months after Everett was killed, his father, Walter Lee Mason passed away. Grace was still trying to get over the loss of her son, still trying to get his body home and now her husband was gone as well. But, a bit of solace was on the horizon.
In early 1946, Taffy remarried. In doing so, she forfeited her "next of kin" status and Grace became the legal next of kin. She sent a copy of the remarriage certificate to the War Department and the process of getting Everett back home began.
After Walter passed away, Grace moved to North Abbington, MA. On August 16, 1946, almost 2 years after Everett was killed, she recieved a Western Union telegram with the news she had been waiting for. You can read a portion of that telegram here.
For reasons I have not been able to figure out, it would be another 2 years before Everett was finally laid to rest. He was interred in September of 1948 in a family plot at Mount Hope cemetary in Bangor, Maine. Mount Hope is a beautiful cemetery and I have had the privilege of visiting Everett's grave there. Also interred at Mount Hope is Hannibal Hamlin, who was Abraham Lincoln's first Vice-President.

It's February 2011. I've been wanting to write this page for over 10 years. There is so much more I will add over time, but I wanted to get the story out there. Everett was, by all accounts, an energetic, fun-loving, bright man with a killer sense of humor. I wish I had met him. At the moment, this page just scratches the surface. I have a lot of pictures, documents and information that I will add over time. But it's a start.