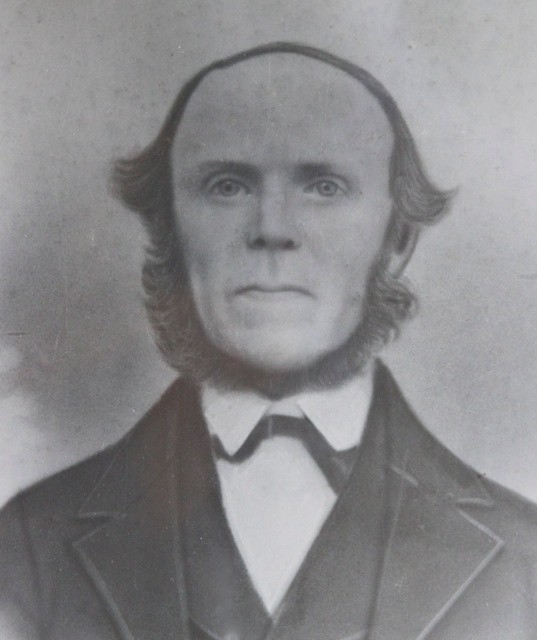 &nbsp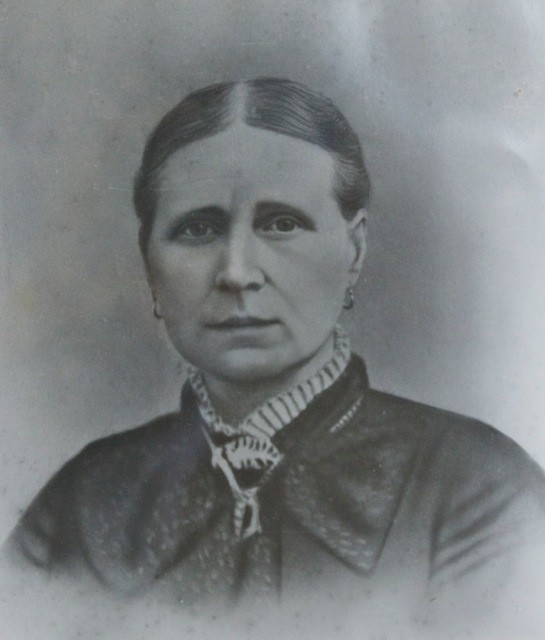 James Wilkin and Mary Bailey were among the hundreds of thousands of Irish who immigrated to Canada in the first half of the 19th century. Over half a million Irish immigrants made their way to Canada between 1830 and 1850 alone. Many left Ireland in the mid-1840's as a result of the Great Potato famine. James and Mary were amongst them. Family documents tell us that James, his parents (John Wilkin and Mary Jane Williamson) and at least one of James' siblings - his younger brother Robert - made the trip from Ireland in roughly 1845.
For many, the journey turned tragic and it was no different for the Wilkin family. Both of James' parents perished during the trans-Atlantic journey from Ireland to Canada. James was roughly twenty five at the time, and his brother Robert was but 15 years old. James took charge of his younger brother upon their arrival in Canada and was responsible for raising him.
Unfortunately, Canada did not start keeping detailed passenger lists of those arriving until 1865, By then, the Wilkin family was well established in their new land. James was born in 1820 in Newbliss, County Monaghan in the northern part of Ireland. We donít know if James and Mary came to Canada together or not. But, by 1849, they were married in Leeds Village, County Megantic in Quebec. Leeds is formally known as St. Jacques de Leeds.
James was a farmer. In addition to potatoes, the area of Ireland where he hailed from is noted for the rather large mushroom farming that goes on there, but I donít know what type of farming James did. However, as was the norm at the time, James and Mary set about to raise a family, doubtless knowing that male heirs would likely grow up to be free labor on the family farm. In the early 1860's James and Mary had a farm in Leeds. Mary's mother was living with them, as was James' younger brother Robert, now working on his brother's farm. James and Mary had ten children:
Jane Wilkin, born December 10, 1850, died December 28, 1923
John B. Wilkin, born September 10, 1854 in Leeds, died December 14, 1932 in Calgary, Alberta
James Bailey Wilkin, born January 14, 1857 in Leeds, died August 19, 1942 also in Leeds.
Mary Wilkin, born May 5, 1859 in Leeds, died March 17, 1931, in Chelmsford, MA.
Gilbert Wilkin, born June 10, 1861 in Leeds, died Nov. 22, 1923 in Lemesurier, QU.
Elizabeth Wilkin, born April 28, 1863 in Leeds.
William Wilkin, born June 24, 1865 in Leeds, died, January 26, 1950 in South Chelmsford, MA.
Joseph Joshua Wilkin, born October 26, 1867, in Leeds, died January 18, 1948 in North Adams, MA
Alexander Hutchison Wilkin, born January 26, 1870 in Leeds, died June 6, 1904 in Barre, VT
Henry Wilkin, born August 20, 1873 in Leeds, died, June 7, 1906 in Barre, VT
The Wilkin family was tied to the St James Anglican Church in Leeds, which was built in 1831. There is an old cemetery that sort of surrounds the church on two sides where many of these Wilkin ancestors are buried - including James and Mary. In fact, the list of last names in this cemetery carries a lot of names that run through the branches of my family tree. The Wilkin, Squire, Nutbrown, Bailey, McCutcheon, Hutchison and Warcup names are all represented in this cemetery and all are tied in one way or another to this branch of my tree.
This is a wonderful old photo. It was taken on the occasion of James and Mary's 50th wedding anniversary in 1899 and includes all of their children. Notice that they are all wearing flowers. It must have been a special day. Though they were all born in Leeds, life would send their children in many directions. Some stayed in Leeds, other - like Alexander made their way to Vermont. Mary and William ended up in the Chelmsford, MA area, and John - the eldest son, headed west to Alberta, Canada.
In the photo, John is seated on the left, beside Mary. Jane, the eldest daughter, is seated on the right, beside her father. Standing from left to right are, Elizabeth, William, Joseph, Gilbert, Alexander, Mary, Henry and James. It's a blessing that they took this photo when they did. A year or so later, James passed away.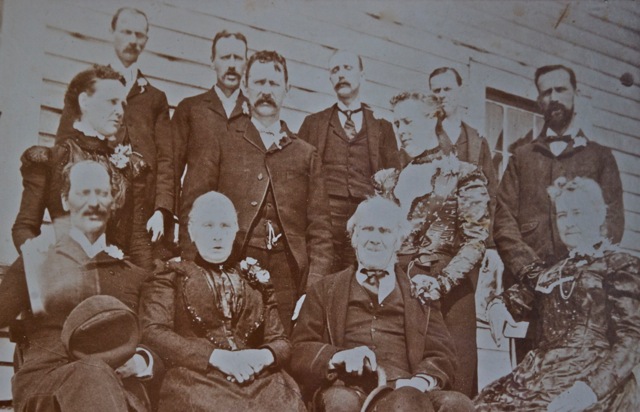 James was apparently quite a horseman and was a jockey at one time. James died on December 22, 1900. When he was buried, his horse followed his remains to the grave, with James' boots turned backwards in the stirrups. After his death, Mary moved in with her son John in Lowell, MA. She lived another 12 years, before passing away on August 9, 1912. Both Mary and James are interred at St James Cemetery in Leeds.