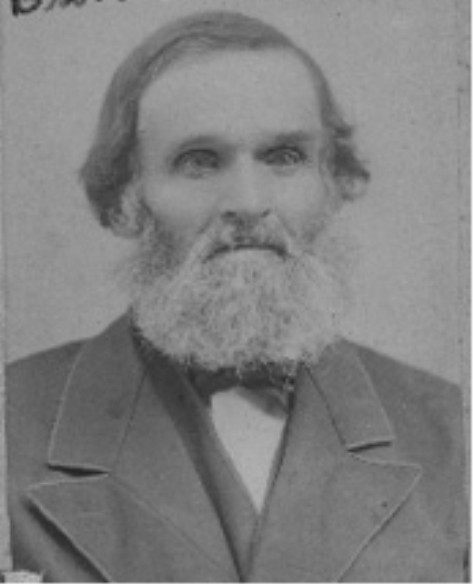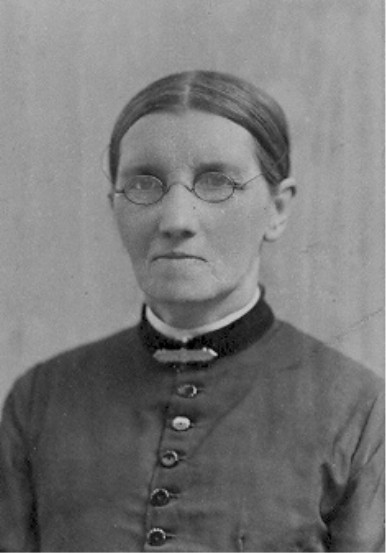 Broadstreet Mason was born June 23, 1820 in the tiny town of Monroe, Maine. He could hardly have known as a young boy what horrors he would witness in his life as he played with his friends and worked on the farm in the serene area he called home. Broadstreet was a highly religious man. Yet he also had quite a romantic heart. By the late 1830's he had become quite taken by a young woman named Rebecca Michael. In a letter written to her in June 1840, he said,
"I laong to see you. It seemed to be a long time to me if I could not see you wonce a week. It has seemed to be a long time sence I saw you last, and it still seems to be along time past it of two weeks longer before we can see each other, but I trust our minds if we are apart, for my mind is the same as it was when we last saw each other and I trust yours is the same. I long for that happy day to come when we shall enjoy each others presents and see each as often as we want to for I should be happy to see you every day for I think we should live very happy together and for my part, I long for that day to come when we shall be as one for I think a young married couple takes a grate ele of comfit when tha live agreeable together. When this you see remember me for I always have you in my mind."
How could she resist a romantic heart such as that? Later that year, they were married.
Sadly, within a few months of their marriage, in April, 1841, Rebecca passed away. She may have died during childbirth. Records show a daughter, Rebecca Mason, born to this couple on April 16, 1841. The child died the same day. Broadstreet must have been heartbroken. He apparently resigned himself to the life of a bachelor farmer.

It was at about this time that Broadstreet's brother Lineus was courting Betsy Jewett Libby. But in 1845, Lineus jilted her and married Harriet Clements. Betsy, heartbroken over Lineus, and Broadstreet, distraught over Rebecca's early death, somehow managed to hook up. On May 21, 1845, Broadstreet and Betsy got married. She was born in 1820, the daughter of Edward Libby and Susanna Barker.
Broadstreet and Betsy had nine children:
Ezra Mason, born June 24, 1846, died Feb. 28, 1911
Rebecca Annie Mason, Feb. 10, 1848, died April 19, 1883
Daniel Mason, born March 31, 1850, died June 8, 1850
Sarah Barker Mason, born June 8, 1851, died May 14, 1923
Charles Edward Mason, born Dec. 1, 1853, died May 25, 1937
Daniel Webster Mason, born July 22, 1856, died Nov. 24, 1934
Erastus Hayes Mason, born June 10, 1859, died January 7, 1892
George A. Mason, born March 20, 1862, died May 14, 1873
Mary S. Mason, born March 7, 1868, died June 28, 1878
The last two children, George A. Mason and Mary S. Mason both died before they were teenagers. They share a grave in the Bartlett Yard Cemetery in Monroe, Maine Click here to see the grave.
I would guess Broadstreet was somewhat of a rugged man. Farming is never an easy job, and I imagine he was well worn by the rigours of his work. He stood 5' 7", with a dark complexion, brown hair and hazel eyes. By the early 1860's, the family had no doubt become aware of the growing civil unrest far to the south. In January 1861, South Carolina voted to secede from the United States. Ten more states followed, forming the Confederate States of America. In February, shots were fired at Fort Sumter.
The Civil War had begun.

Like so many hundreds of thousands of men, Broadstreet eventually took up arms in defence of the Union. In mid-December, 1863, he was mustered into Company F of the 1st Maine Heavy Artillery. This unit ended up with the dubious distinction of having the greatest number of casualties of any unit in the war, North or South.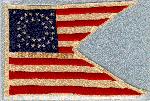 Flag of the 1st Maine Heavy Artillery
Troops took great pride in their units during the Civil War. They were proud to represent their states and their country. Many units had their own marching bands. The 1st Maine Heavy Artillery was no different. This is a photograph of the 1st Maine Heavy Artillery Band. Broadstreet was not part of this band, but he sure would have known these men and doubtless enjoyed listening to them. You can click on the picture for a larger view.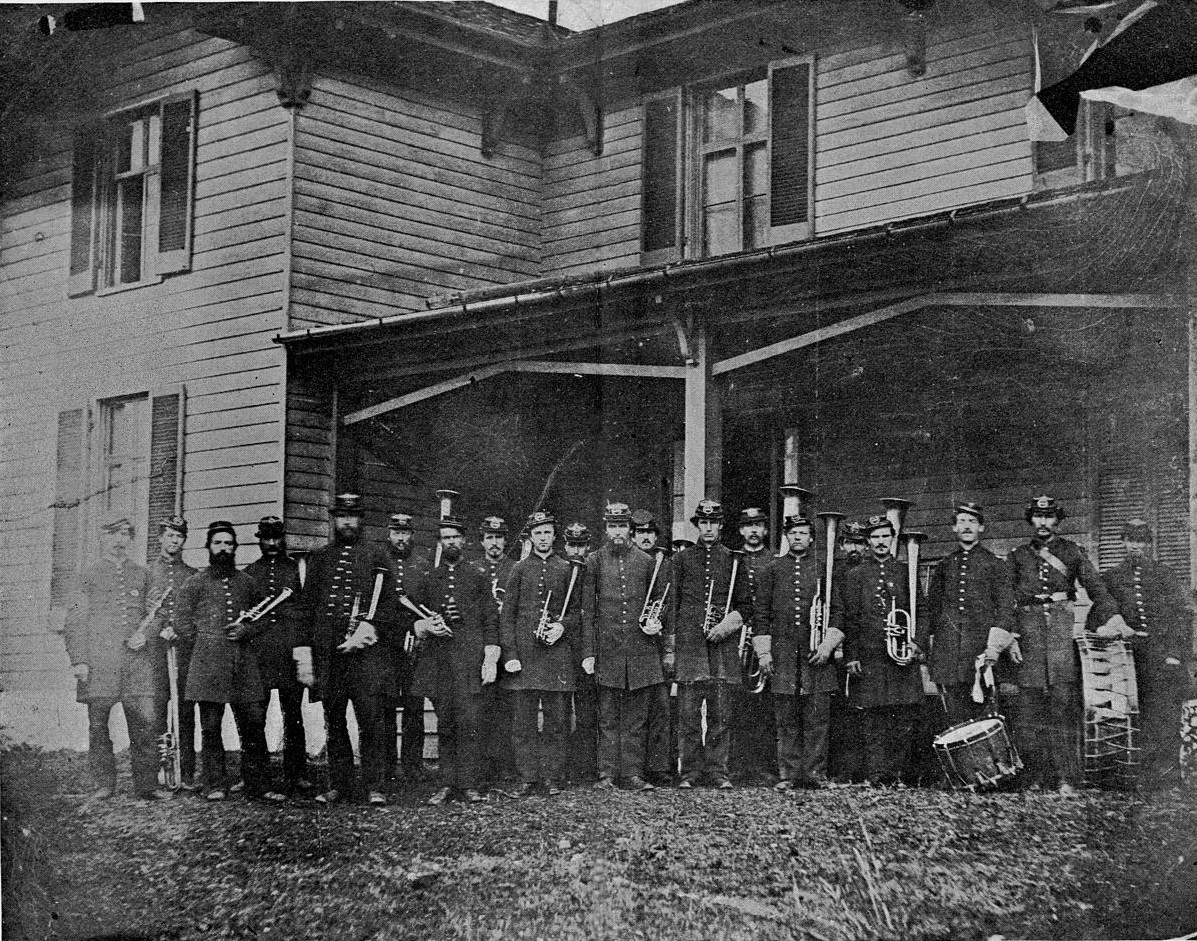 Special thanks to Clarence Woodcock
Visit his 1st Maine website!
Early during his time in the service, Broadstreet and the 1st Maine were assigned to the defence of Washington. It was during this time, on March 6, 1864, that Broadstreet sent a letter to his wife Betsy in which he stated,
"I am in hopes that this rebellion is all most over. We are back to Washington again guarding rebels prisoners in the old captial prison, there is from 5 to 6 hundred in it twenty four came thare yesterday. The unitedstates captial is worth seeing. I was in it Saturday there is every thing you can think of in it...I should like to write more but I must close for I must go on guard..."
Shortly thereafter, Broadstreet's unit was moved out of Washington and brought into battle as part of U. S. Grant's Wilderness Campaign. In mid-May, the 1st Maine found itself in the area of Spotsylvania Court House. Grant had abandoned hope of destroying Lee's army, but laid plans to move around the right flank of Lee's forces and then move southward. Grant had turned several Heavy Artillery units into infantry units for this campaign. The 1st Maine was amongst them. On May 19th, the 1st Maine found itself at Harris' Farm where Union forces ran headlong into the Confederates. The Southeners opened fire. One Union survivor said, "The balls came through as if the building were made of paper."
The Confederates took control of a ridge. The 1st Massachusetts Heavy Artillery took a line between the Harris house and a house next door. The 1st Maine was right behind them, directly across from the rebel held ridge. In the ensuing battle, Broadstreet was shot in the foot. He lost a toe, and had severe damage to the rest of his foot. Though wounded, he was among the lucky ones. He survived.
During his time in the service, Broadstreet carried this picture with him of four of his boys, Ezra, Charles, Daniel and Erastus.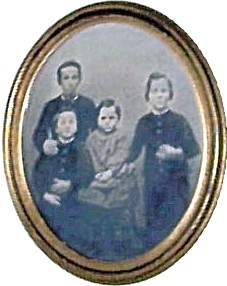 Broadstreet was discharged on January 19, 1865. He returned to Monroe and his family. Though his wounds had healed, the damage to his foot left him somewhat crippled for the rest of his life. In 1885, there was a reunion of the 1st Maine Heavy Artillery in Portland, Maine. This picture was taken at this reunion. I have not been able to pick out Broadstreet in this picture, based on the one photo I have of him. But look closely at the number of men with missing arms or legs, hooks for hands and eye patches. Nearly every soldier in this unit suffered some sort of injury or disease. I've added a red arrow to this photo to indicate whom I THINK is Broadstreet, but I can't be sure. What has me believing it's him are three things:
The closeness of his eyes
The beard
The fact that he was 5' 7" tall
You can click on the picture for a larger view.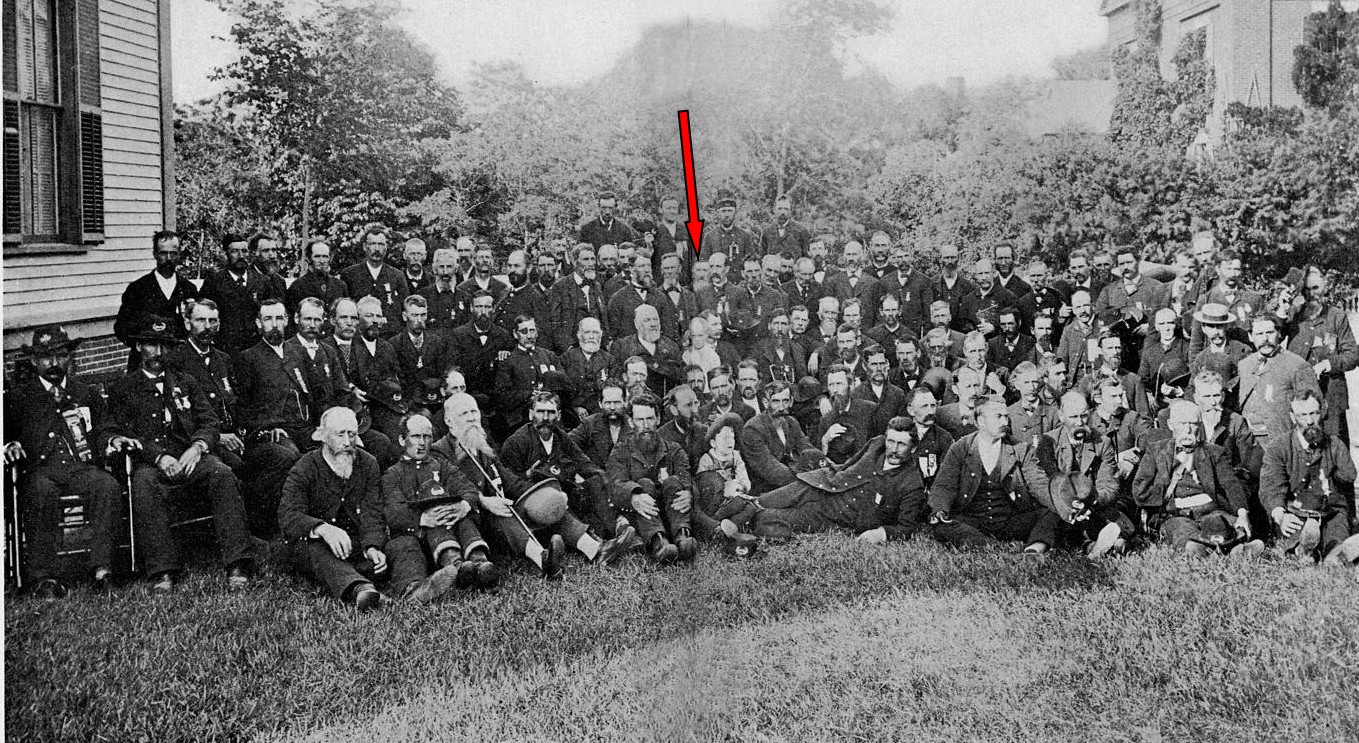 Special thanks to Clarence Woodcock
Visit his 1st Maine website!
Broadstreet Mason died of Bright's disease (kidney disease) on October 25, 1892. He was 72. He is buried in the Bartlett Cemetery in Monroe, Maine. His wife, Betsy, lived for another 17 years. She died in 1909 at age 84.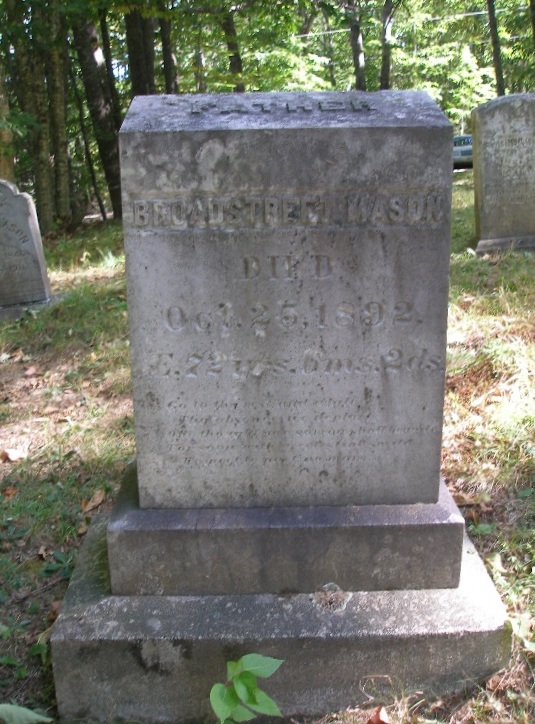 Broadstreet's obituary read, Broadstreet Mason, a prominent farmer of Monroe, died at his home October 25 after a distressing illness of over a year at the age of 72 years, 6 months and 2 days. He had been a man of great energy and industry, benevolent to the needy and helpful in the support of education and religion. He was a Union soldier, enlisting 1863, was wounded at Spottsylvania, and at his funeral his comrades assisted with impressive ceremonies. His neighbours bear testimony of his peaceful and helpful life and how much he will be missed. At Christmas for many years he prayed at the family alter. After he got to weak to kneel, he was ready, waiting for the summons of his Master. He died a good man full of years, leaving a widow. three sons and one daughter, five children having gone before. Rev Frank Dolliff attended the funeral, a large assembly being present."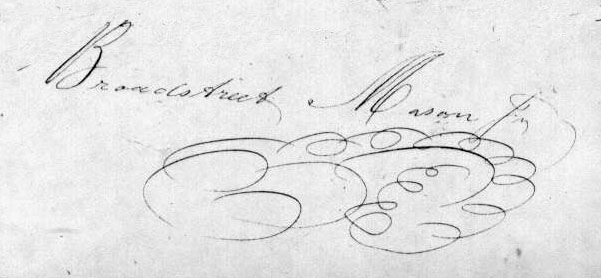 I'd like to extend a special thanks to Joseph Kelley for much of the information on this page. Joseph and I are related, though we have never met. I hope that changes soon! Broadstreet's son, Daniel, is our common ancestor. Joseph has been wonderfully supportive and has provided a wealth of wonderful stories and information.
Thanks Joseph!!!
I also need to thank Clarence Woodcock of CW Publishing for allowing me to use a couple of photographs on this page. Clarence has one of the most definitive websites on the 1st Maine. There is a wealth of information on this site. He has also republished on CD-ROM the 1903 book "The First Maine Heavy Artillery", by Horace H. Shaw and Charles J. House.
Thank you Clarence!!