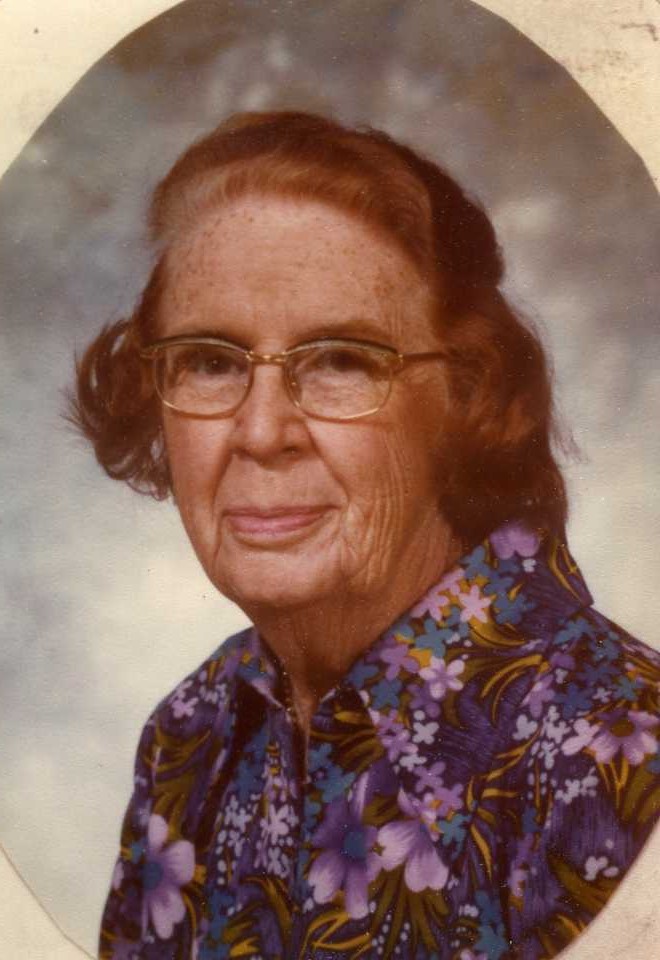 Gladys Janet Wilkin was born November 29, 1907 in North Adams, MA. She was the youngest child of Joseph Wilkin & Margaret Squire . Gladys sort of bookended her life in the same house in North Adams. The house she lived in as a baby was the same house she spent her final years.
In the middle, she met and married Edmund Christian Tarnuzzer, a Swiss immigrant. He was born on October 3, 1899 in Chur, which is in the heart of the Alps, just along the Rhine River. Chur is known as the oldest town in Switzerland. Edmund was the son of a doctor, Christian Tarnuzzer and his wife, Catherine (or Katherine) Grill, who was actually born in New York in 1886 and went to Switzerland in 1907. In October of 1922, he made his way to Antwerp, Belgium and boarded the S/S Lapland, bound for New York and a new life in the United States.
This is the S/S Lapland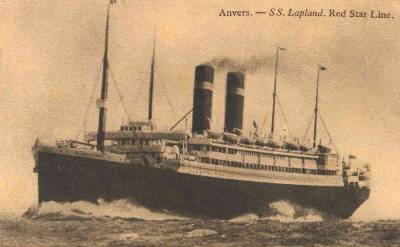 The S/S Lapland has a somewhat noted place in maritime history. In late April of 1912, the Lapland carried the 167 surviving members of the Titanic crew back to England after they were released by the United States Court of Enquiry that had looked into the Titanic disaster. During the voyage back to England, the Titanic's crew members were kept in 3rd class so they would be segregated from the media! But I digress....back to Edmund and Gladys!
Upon his arrival in the United States, Edmund made his way to Springfield, MA, presumably to see his brother Paul. Paul was twelve years older than Edmund and had come to the US ten years earlier. But Edmund didn't stay with his brother for too long before moving to Marshall Street in North Adams, MA. Down the street was one of the 20+ buildings that made up the Arnold Print Works, where Edmund worked as a chemist. It's also on the west side of North Adams, where the Wilkin family lived.
Three years later, in February of 1925, Edmund's father, Dr. Christian Tarnuzzer died in Switzerland. Within a few months, his mother Catherine, and sister Lenore, made the trans-Atlantic crossing to New York aboard the same ship Edmund had sailed – the S/S Lapland.
Edmund became a naturalized citizen on June 26th, 1928. Like so many millions of European immigrants, it must have been a source of great pride to be recognized as a United States citizen! Edmund made at least one other trans-Atlantic trip. He sailed from France to New York aboard the 'Ile de France' in the winter of 1930. The ship's manifest shows that by then, he had moved to a new place in North Adams, on North Street, which is just a short distance from his place on Marshall Street.
By 1930, Gladys, now 23 years old, was also working at the Arnold Print Works in North Adams, MA as a stenographer. Perhaps Gladys and Edmund met at work, much like her sister Grace and her husband had done at same place!!
Edmund and Gladys were married on June 6, 1933. Those were tough times. Unemployment in the US at that time was over 25% and FDR was rolling out the 'New Deal'. But, Gladys and Edmund, along with Gladys' sister Grace and her husband Charlie all went to the World's Fair in Chicago in 1933, sometime after Gladys and Edmund were married.
A year later, in 1934, Edmund and Gladys had their only child, a son.
Edmund worked at the Arnold Print Works at least until the summer of 1942. The Arnold Print Works, which at one time had been the largest employer in North Adams, MA, fell on hard times and closed in 1942. Edmund took a job as a Chemical Engineer at Stein-Hall & Co. in Rhode Island. The family moved to Providence. By 1950, they were living in Rumford, RI, which is part of East Providence. Also in 1950, Edmund, Gladys, and their now 15 year old son took a trip to Europe.
The Tarnuzzer family remained in Rhode Island until Edmund passed away in November 1951. I have not found a death records for him anywhere, and don't know the circumstances surrounding his death at barely age 52.
Gladys and her son remained in East Providence for a couple more years, but with Edmund gone, Gladys and her son eventually moved back to North Adams in late 1953 or early 1954. Gladys moved into the upstairs part of her parent's home, who were both now passed away. Gladys' sister, Mary (Mame) lived in the downstairs section.
Here's a picture of Gladys taken at about this time. It is from Christmas in 1955: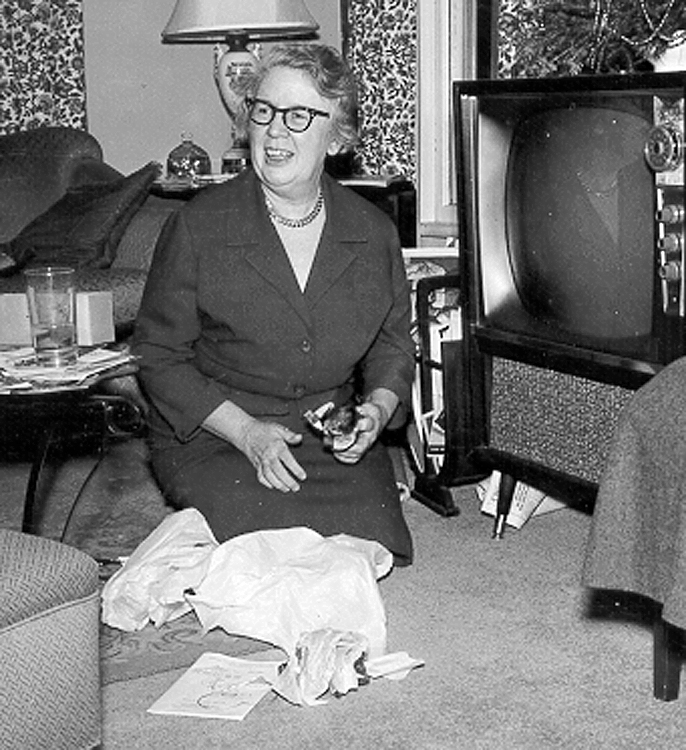 Gladys took a job at as an Admissions Clerk at North Adams Hospital in 1954. She remained there for four years, before leaving that position in November of 1958. After that, she became a receptionist at the newly formed Williamstown Medical Associates, where she worked for many years.
In the summer of 1965, Gladys son got married. This picture was taken that day. I love this photo because it has three Wilkin sisters - all of whom I loved and miss. That's Gladys on the left, her sister Grace (Wilkin) Pozzi in the middle, and Mary Elsie 'Mame'(Wilkin) Carnohan on the right.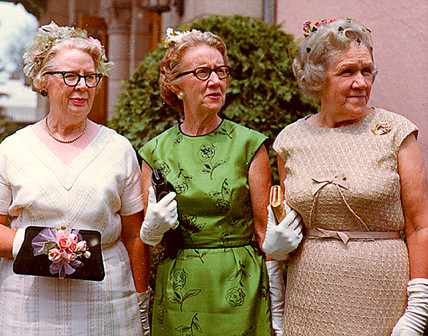 Gladys died of cancer in 1977. I remember her as a wonderful woman – lots of fun and always laughing with her sisters Mame and Grace. They were very close. Every year we would have Easter, Thanksgiving and a good old fashioned family picnic at Gladys and Mame's house. I didn't realize until years later that the house had been the focal point of those family get-togethers for generations. It feels good to have been a part of it all!!