Charlie and Grace had two children:
Patricia Mary Pozzi, born July 14, 1932
Charles Wilkin Pozzi, born June 1, 1937
Here is a photo of Patricia and Charles, probably taken in the early 1940's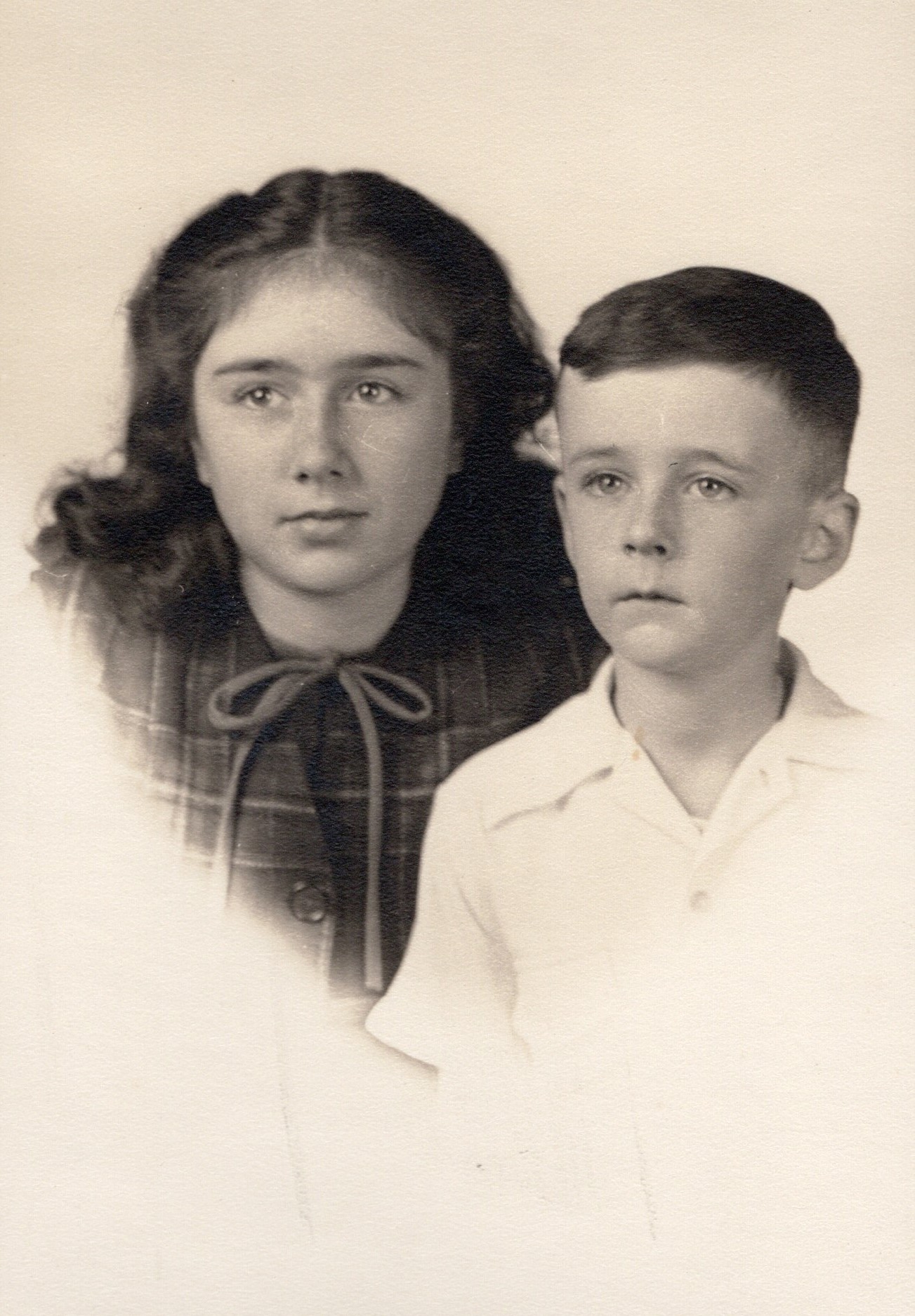 In either 1933 or 1934, Charlie and Grace, along with Grace's younger sister Gladys and her husband Edmund Tarnuzzer visited the World's Fair in Chicago. This must have been terribly exciting for them to make a trip that far at that time. Here is a picture of them, apparently on a boat, while at the fair. Edmund took the picture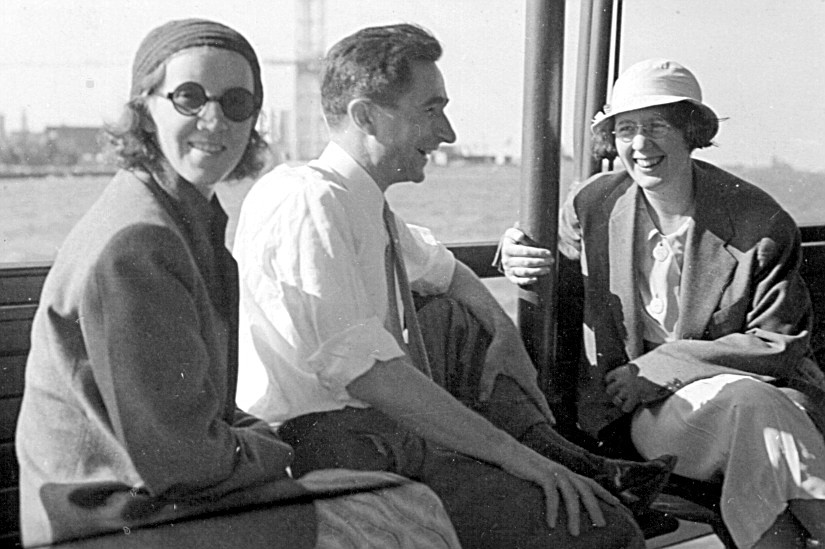 Charlie was a lot quieter than Grace. She was a ball of fire -even late in life. But Charlie had a sense of humor that was very subtle and he loved a good laugh. I can't begin to express to you how very very much in love these two were. It's one of the things I remember most about them. If there is such a thing as a 'perfect' match, Charlie and Grace were it!
Charlie spent most of his life working in textile mills in Massachusetts and Connecticut. The family lived in North Adams, and Lawrence, Mass. They then moved to Sterling, Connecticut. When the textile industry went south, Charlie and Grace moved to Virginia for a couple of years, and then moved back to Thompson, CT. Charlie worked until 1974, before retiring at age 72.
He was an avid outdoorsman. He loved to hunt and fish. I remember fishing with Grandpa when I was a young boy on a small pond somewhere in Connecticut. I can't for the life of me tell you whether we caught anything, but I remember him being very patient with me, which I'm sure wasn't in easy, and I remember having a great time.
I find it very difficult to keep the focus of this page on just Charlie and Grace. Charlie was one of six children and Grace was one of seven. Both families lived in North Adams, MA and were very close through the years. I scarcely remember ever going to North Adams without there being lots of aunts and uncles and cousins to visit. Here is a photo of the Pozzi clan at a family celebration. In this case, I believe it was a wedding anniversary party for Charlie's sister Juila and her husband Ernest Manerini :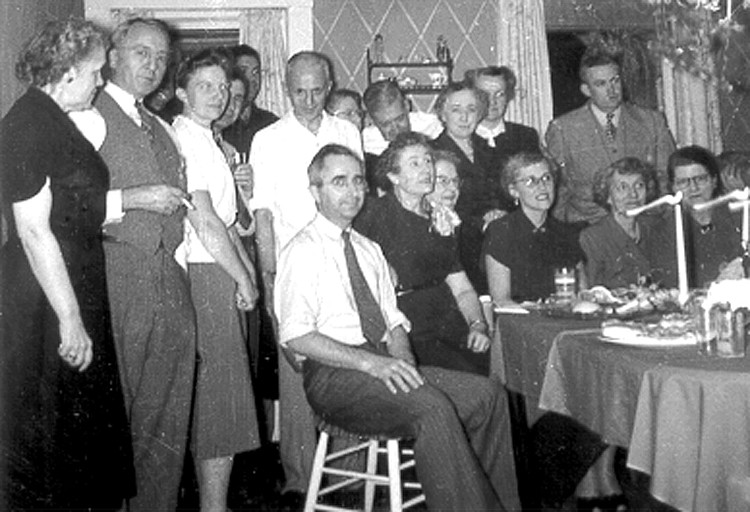 From left (back row): Mary (Mane) Carnohan, Ed Tarnuzzer, Ginger Pozzi, Johnny Pozzi, ???, Ernest Manerini(standing in white shirt), Gladys (Wilkin) Tarnuzzer, Harold Godfrey, Julia Godfrey, Eve Crowley, and John McConnell.
Seated from left: Charlie Pozzi, Julia Manerini, Grace Pozzi, Annette McConnell and two women I can't identify.
I was too young to be a twinkle in anyone's eyes when this photo was taken, but scenes like these played out year after year. The faces changed as time went on, but the closeness did not. It was always fun to be part of these get togethers. Think of it - Charlie was one of 6 children and Grace was one of seven. Both families lived in the same town, and truly loved each other. All the right ingredients for great parties and huge gatherings!
Charlie and Grace celebrated a long and wonderful marriage. Here is one of my favorite pictures of them, taken at their 60th anniversary.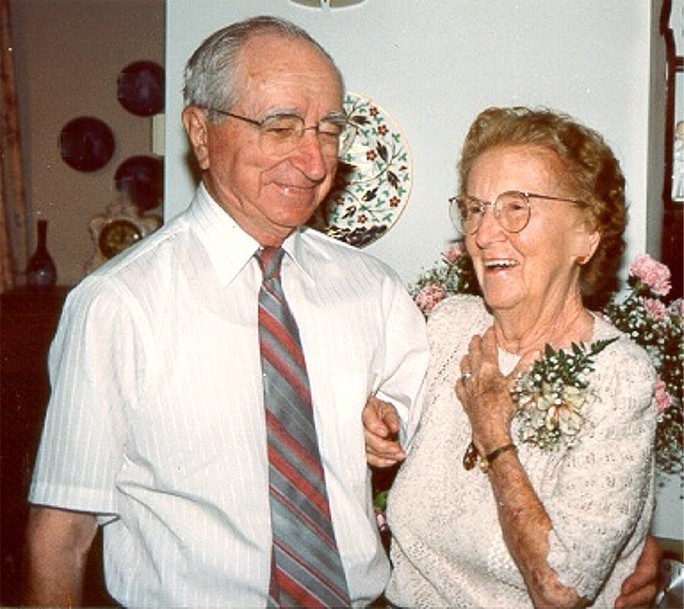 I used to love going to their house in Thompson, CT as a boy. There were marvelous stone walls that surrounded the place and Grandpa had spectacular gardens!! When I was young, I remember my Mom telling me to go outside with Grandpa and tell him how beautiful his gardens looked. It was something I "had" to do at the time, but little did I realize that I was developing the same love of gardening that he had. Although, I can't say as I've ever had a garden quite like his!! Not a weed to be found...EVER!!! Somewhere there is a newspaper article that was written about Grandpa late in his life that talked about his gardens and there is a wonderful picture of him with his pole beans. If I can find it, I'll add it to this page.
Grace developed cancer late in life. She passed away on April 17, 1993, one day short of her 90th birthday. Charlie remained active for several years and continued to plant a gorgeous garden at their home in Thompson, CT for many years. When his health started to fail, he moved to an assisted living facility in upstate NY, near his daughter Patricia. Even well into his 90's, he stayed active caning chairs, which was one of his many skills.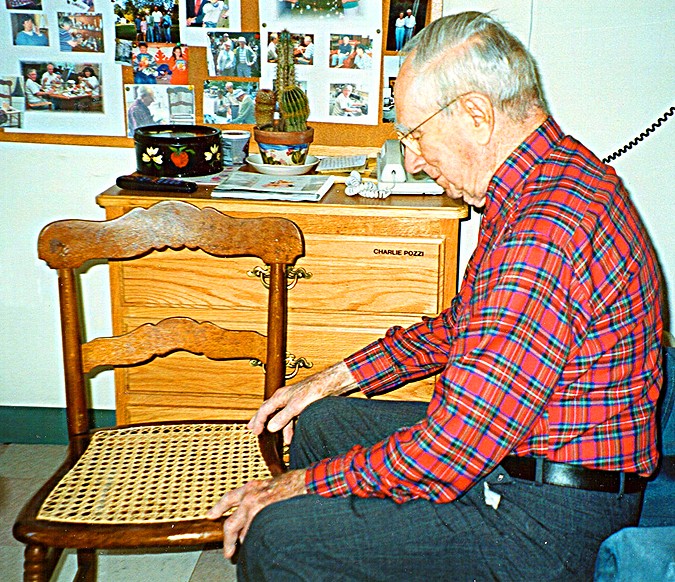 Charlie passed away on June 1, 2000. He was almost 98 years old. Both he and Grace are buried in Greenwich, NY.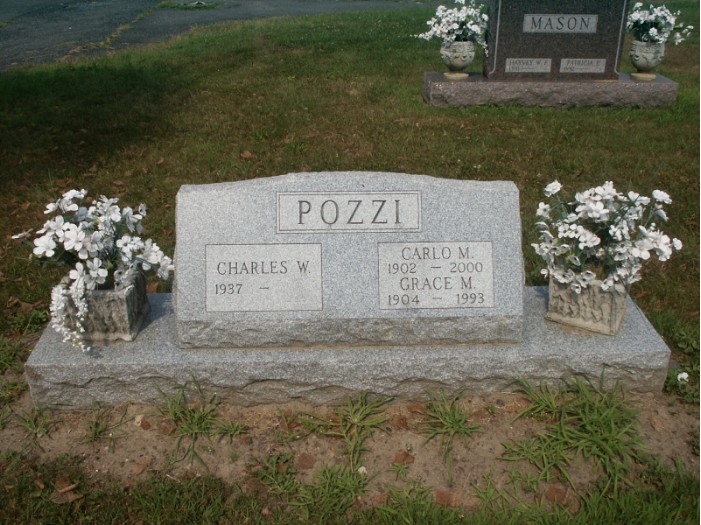 This is where the Pozzi and Wilkin lines come together. You can follow the Pozzi line back one generation by clicking this button:

Or you can follow the Wilkin line back one generation by clicking this button: