I was half tempted to use a brick wall background for this page as a means of conveying just how frustrating it has been for me -and many others - to pin down a lot of information about Broadstreet Mason. Actually, from the point he enlisted with the 1st New Hampshire regiment of the Continental Army to the end of his life, we've got a fair bit of information. But his early life is quite the mystery.
Despite attempts by several people over many years, no one has been able to locate a definitive birth record for him, or find him listed as anyone's child. Depending on what you want to believe, Broadstreet was born between 1752 and 1763 in either Maine, New Hampshire or Massachusetts. The best information we have is that he was probably born right around 1755, somewhere near Portsmouth, New Hampshire.
When he first enlisted for service in the Continental Army in roughly 1777, he lived in Nottingham, NH. He was mustered at Epsom, NH. Early letters written by some of his descendants speak to him serving at the Battle of Bunker Hill. In his application for pension following the war, he spoke of serving in several other battles, including Yorktown, PA and Saratoga, NY. What follows is a transcription of Broadstreet's pension application, graciously provided to me by Joseph Kelley. Underlined words may not be exact:
I Broadstreet Mason of Monroe in county of Hancock in the District of Maine on oath do say and declare that sometime in the year 1779 I enlisted in the service of the United States in the ____ _____ Revolutionary War as a private soldier for once during the war. Once in June or July of the same year was embodied at Wyoming in Pennsylvania in Capt Nath Hatchings company in the 1st Regiment of the New Hampshire Line commanded by Col Joseph Cylley and served in said company and Regiment about one year. Was then transferred into Cap Emersons company in the same regiment in which I served about one year. Was then transferred into a company of infantry commanded by Capt Monroe - then went to the south and was under the Marquis D La Fayette and was at the siege and taking of Yorktown and Cornwallis. Afterward joined Col Cylley's regiment still in Capt Monroe's company at Saratoga and was honorably discharged at Newbury after the peace in June 1783. But I have lost my discharge"
Following this passage, he wrote something to the affect that he was in need of assistance and support. In fact, the town of Nottingham, NH did offer financial support to Broadstreet's family while he was enlisted. There are also records that show he received an enlistment bonus of 60 pounds from the United States and 90 pounds from the State of New Hampshire on April 27, 1779. There are additional records of payments he received.
We know that Broadstreet bought and sold some land in both Loudon and Cheshire, NH in the 1780's and again in the early 1800's. But, he was not long for New Hampshire. By 1790, Broadstreet shows up in the census as living in Shepardsfield Plantation, Maine, now with his wife Elizabeth, who was born in 1768 (and whose maiden name is a complete and total mystery!!). Shepardsfield Plantation is today in parts of both Hebron and Oxford, Maine. Turner, Maine is also a nearby town and birth records for all of his children are located in Turner.
Broadstreet and Elizabeth had eight children:
Benjamin Mason, born July 15, 1786
Joseph Mason, born November 5, 1788
Margaret Mason, born April 19, 1790
Broadstreet Mason, born July 15, 1791
Mary Mason, born March 14, 1793
Nathaniel Frost Mason, born December 30, 1794
Jene Mason, born October 13, 1795
Deiadamea Mason, born October 19, 1797
.

At some point in the late 1700's or very early 1800's Broadstreet and his family made their way to what is now Monroe, Maine. They were apparently one of the first settlers in this rather rural area which was part of the Smith Grant. Broadstreet built the first mills in that area, a carding mill and grist mill and by some accounts, saw mills. In fact, the area was apparently once known as Masons Mills.
There is an anecdotal tale in my family that right around 1800, Broadstreet would occasionally be seen weeping. When asked why he was crying, he is said to have replied, "I'll never see George Washington again." Washington had died in 1799. Broadstreet had served at Yorktown, as had George Washington. While we have no way of knowing whether they actually knew each other, or even met for that matter, it seems Broadstreet dearly loved Washington.
Late in his life, Broadstreet was apparently not in good health. There are several letters written by him and in support of him in his attempt to secure a pension from the US Government as a veteran of the Revolutionary War. He indicates that he "has no real nor personal estate nor any income..." He goes on to say that he is a farmer, but extremely infirm and unable to labour. I have no children underage. My wife is very infirm. I cannot support myself without public or private charity." In 1818, the selectmen of Monroe wrote a letter on Broadstreet's behalf. It said "that by reason of his reduced circumstances in life stands in need of the assistance of his country for support and in out opinion he is well intitled..."
Broadstreet lived out his days in Monroe. He died September 22, 1822 at the age of 67, and is buried in Pattee's Corner Cemetery.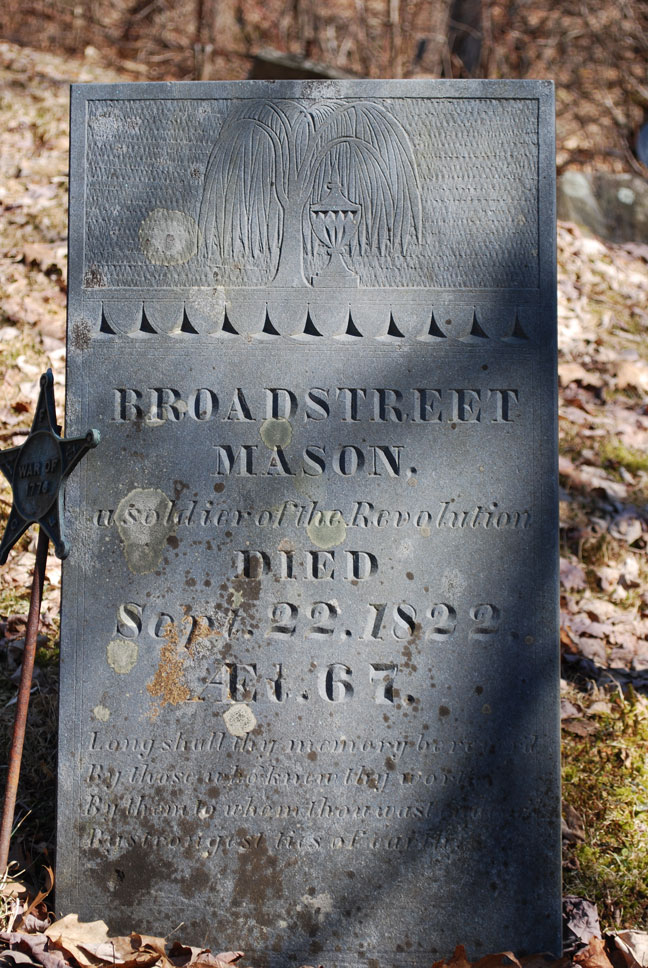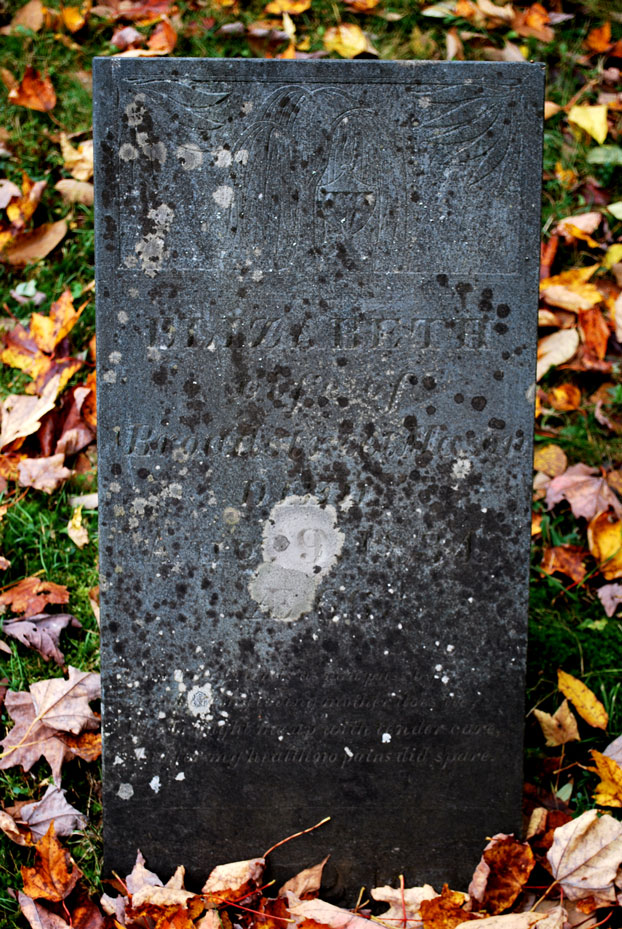 His wife, Elizabeth, died August 9, 1834 at age 66.

My direct line back to Broadstreet Mason is as follows:
Broadstreet Mason (abt. 1752 - 1822)
Broadstreet Mason (1791 - 1872)
Broadstreet Mason (1820 - 1892)
Daniel Webster Mason (1856 - 1934)
Walter Lee Mason (1887 - 1946)
Howard Francis Mason (1910- 1994)
Harvey Wellington Frye Mason (1931-2011)
You can click on any of the links above to jump to a specific generation, or follow the "NEXT" and "BACK" buttons below to step throuh each generation.


E-mail me

Background music on this page is
"The Sword of Bunker Hill"
midi file by Lesley Nelson-Burns
See her web page!